Mara Levine and friends Gathering Time toured Europe for the first time in 2018, The tour started in Ireland:  Saturday April 7th : Old Schoolhouse Clashmore Co Waterford @ 8 pm.....Sunday 8th : Muintir na Tire Hall Buttevant Co Cork @ 8p Monday 9th : Village Arts Centre Kilworth Co Cork.@ 8.15pmTuesday 10th : O Gliasain Pub (Concert Room) Sixmilebridge Co Clare @ 8.30pm...Then in Germany we were at Sportheim Illeberg on the 12th and finally the Ehingen country and bluegrass festival on April 14th. 
I then had  2 shows in the Netherlands with the Dutch duo John and Nienke on April 27 and 28!  Finally I  performed at the European Film Festival in Paris on May 5 and 6!   Over a month on the road!   It was a great trip and looking forward to returning.  
I attended  SERFA on May 18-20.  Then I went to  The Great Labor Arts Exchange in Silver Springs MD June 21-24, Next up...  the Woodstock Folk Festival  July 15 and a house concert in Indiana PA  with Gathering Time July 13th!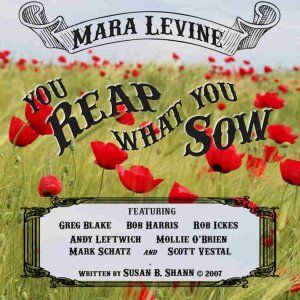 "You Reap What You Sow" (Susan B. Shann) is the #1 song on the International Folk DJ Chart for November 2017!!!!  The song was #16 for the year 2017 on the chart, and  spent nineteen consecutive weeks as of May 18,  2018, and a total of 22 weeks so far on the Bluegrass Today Grassicana chart, peaking three times at #9! 
Earlier in the year, "By My Silence" (Ellen Bukstel & Nick Annis) recorded with friends Gathering Time, was the #1 song on the Folk DJ Chart for September 2017. It ended the year as the #19 song on the chart.  Along with "You Reap What You Sow," this song will appear on my forthcoming album, Facets of Folk. 
My previous album,  Jewels and Harmony was the #3 Album . with the #1 song, and Mara was the #1 artist on Folk Radio for 2013, #1 album for January 2013, 
I'm truly excited to tell you about my new single "YOU REAP WHAT YOU SOW" by Susan Shann, (a preview from my upcoming CD, FACETS OF FOLK 
The song was recently Featured in Bluegrass Today by John Lawless! 
https://bluegrasstoday.com/you-reap-what-you-sow-from-mara-levine/ 
To purchase a download :  http://cdbaby.com/cd/maralevine3 
Radio DJs wishing to download the song for airplay, please click This link to Airplay Directhttp://www.airplaydirect.com/music/maralevine/ 
To preview the song 
https://soundcloud.com/mara-b-levine/you-reap-what-you-sow  
I met Susan Shann at the SERFA conference in 2016 and she gave me two of her CDs to listen to. "YOU REAP WHAT YOU SOW" impressed me immediately as a special and timely song. I loved the melody, especially on the bridge. I always invite audience participation, and the chorus was catchy, singable and the entire song resonated with me as a positive message about doing your best at whatever you do and reaping the rewards or fruits of your labors. One could also interpret the song to mean caring for others and nurturing relationships, in particular keeping your word and your commitments and that this will be returned to you in kind. 
 I heard it clearly in my mind as a bluegrass song and sought out the best of bluegrass talent for the recording, yet I must say that the arrangements, style and quality of their playing truly has had broad appeal to listeners across the entire spectrum of roots music. The band features luminaries Greg Blake, Bob Harris, Rob Ickes, Andy Leftwich, Mollie O'Brien, Mark Schatz and Scott Vestal. 
 "You Reap What You Sow" also fits beautifully with the overall theme of my upcoming CD, FACETS OF FOLK, which has several socially conscious songs, some songs about being a better person and considering how we treat others, as well as some favorites and new discoveries written by contemporary songwriters. 
 I'll be working on an INDIGOGO fundraising campaign soon, to raise funds to finish recording, manufacturing, shipping and promoting FACETS of FOLK  in the near future!  
To purchase a download :  http://cdbaby.com/cd/maralevine3 
Radio DJs wishing to download the song for airplay, please click This link to Airplay Directhttp://www.airplaydirect.com/music/maralevine/ 
To preview the song 
https://soundcloud.com/mara-b-levine/you-reap-what-you-sow  
Quotes 
Mara Levine – You Reap What You Sow for November 1 Release! 
"Congrats on such a great song.  The writing, message, and execution are fantastic.  Thanks for sending this. I will encourage everyone to play this as it is a standout cut!  Keep making great music." Devin Adams 91.3FM WYSO "Rise When the Roster Crows"
Other news:  
By My Silence( Ellen Bukstel and Nick Annis)) recorded with friends Gathering Time was the #1 song on the folk DJ chart for September!  This song is another preview from Facets of Folk… 
.. Preview song here: https://soundcloud.com/mara-b-levine/by-my-silence  
Written by award winning Florida singer-songwriters Ellen Bukstel and Nick Annis, "By My Silence" has been called "a powerful gut-wrenching song about the regret of keeping a fearful silence during the Holocaust." (Jonathan Widran of Music Connection) Their lyric was inspired by a poem attributed to Rev. Martin Niemöller, a German Protestant Minister imprisoned for seven years in two concentration camps for his anti-Nazi activities. When asked how he, a Christian Pastor, became incarcerated, his famous answer began, "First they came for the Communists, and I did not speak out because I was not a Communist." "By My Silence" has won accolades including; Grand Prize Winner in the 2008 Music to Life Song Competition, Winner, 2010 Int'l New Zealand Peace Song Competition; Folk Finalist, the 2009 John Lennon Song Competition and was the #4 song, May 2010 on the Folk DJ chart.  
"Based on a concept that is important and famous, "By My Silence" makes the point powerfully and well. Lots of good song craft here with a deeply important message. All to the good!" 
- Peter Yarrow  
Jewels and Harmony is #3 Album on Folk Radio for 2013, #1 for January 2013, 
 "From the moment the music begins, it is clear that this album is something special. Every note, instrument and harmony is perfectly placed. She explores each song, its intent and intonation, and then sings with soulful elegance. The songs reach down deep, touch your senses and send you on a musical journey through the seasons and life's passages, both literally and figuratively."      
 Jeanne Holton Carufel,host - "Acoustic Peace Club," WMNF-FM, Tampa FL 
(Cover photo by Michael Cala) 
Called "one of the best singers of her generation" by Christine Lavin, folksinger and jewelry designer Mara Levine has been creating beautiful interpretations of fine traditional and contemporary folk songs for many years. She has an ear for both new songs and for classics that can be reshaped to sound fresh and new. 
Layering one harmony line on top of another, she creates rich tapestries of sound and emotion. Levine's version of Bob Franke's "Straw Against the Chill" with Joe Jencks and her arrangement of Paul Simon's "Leaves That Are Green" with Gathering Time both reached #1 as singles on the Folk Chart and appear on Jewels and Harmony. 
Jewels and Harmony was the #3 album played on folk radio for 2013. In addition,  Cover Lay Down named it #4 on their top ten list of best cover albums for 2013. 
Jewels and Harmony was the #1 album on folk radio in January 2013 and also had the top two songs – "The Dutchman" and "When I Sing With You." Mara was also named top artist for the month.  This is according to charts compiled by Richard Gillmann from radio playlists submitted to FOLKDJ-L, an electronic discussion group for DJs and others interested in all folk-based music on the radio. Si Kahn lends his seasoned and expressive voice to Levine's moving arrangement of Michael Smith's "The Dutchman" as a duet. 
Uppn hearing her version, Michael Smith wrote to Mara: "You and Si sound great together, and the interpretation is honest and sincere and tuneful... the cello and guitar and voices filled the space beautifully. I'm proud to be associated with your work." 
"When I Sing With You," a song that Si Kahn wrote for the album, features singer-songwriter Joe Jencks and folk harmony trio Gathering Time on harmony vocals. 
Building on the success of Mara's Gems, her 2009 debut, Jewels and Harmony features 15 hand-picked songs that reflect changes we experience and some of life's journeys and passages. The change of seasons, with spring inevitably turning towards winter, mirrors both aging and the disintegration and loss of significant relationships. Other songs touch on yearning for meaningful connections that will endure and on themes of hopefulness, rebirth, the support of friends and partners who stand by us, the joy of making music together, and the healing power of music to soothe and keep us connected. 
Jewels and Harmony was co-produced by Mara Levine and Bob Harris (Johnny Cash, Girlyman, among others). Harris, who toured with Vassar Clements, plays guitar on 10 of 15 tracks, plus bass, mandolin, and helped with arrangements on several songs. 
Artists contributing their talents to this recording: Si Kahn, Brother Sun, Gathering Time, Joe Jencks, Pat Wictor, Cheryl Prashker, Caroline Cutroneo, Shannon Lambert-Ryan(RUNA), Elaine Romanelli, Loretta Hagen, Terry Rivel, Jan Alba, Bill "Rusty" Crowell, Rose Berkowitz, Mark Torres, Bob Wright, Bill Doerge, John Guth, Jeff Scroggins, Tristan Scroggins, Greg Blake, KC Groves, Terry Kitchen, Dan Schatz, Andrew Magill. 
What others are saying.... 
"Some people, like the one described in Leonard Cohen's classic song, are born with a Golden Voice. Mara Levine is one of those gifted few who fits that definition. 
Hearing her sing makes you stop whatever you are doing and LISTEN!  Known for her warmth, sincerity and impeccable natural musicality, she make us all listen more intently, and celebrate the beauty that she brings to every song she sings. Try to go to hear her live or listen to anything she has done or does. 
Mara Levine's beautiful CD "Jewels and Harmony" makes it possible to celebrate excellence in the art of both jewelry making and singing.  Beauty is in the eye of the beholder when you see Mara's stunning designs, and in your ear and heart when you hear her sing. Llistening to her CD "Jewels and Harmony" reminds us that we can all savor beauty in all is forms. Thank you Mara for what you have done and continue to do"   DAVID AMRAM, Composer, Conductor, MultiInstrumentalist 
"Jewels and Harmony is one of those recordings where you want to listen to the entire work and then listen once again. Mara Levine's voice jumps out at you with the clarity of a well tuned chime or bell in the tradition of Judy Collins and Joan Baez. Her selection of songs for this project are truly well chosen and the delight of having the amazing guests she has surrounded herself with is a true treat. The best for last in these comments---Si Kahn appears on one track and one is a song he has written specifically for this recording...  if Mara continues on this trajectory, there is no reason she should not be recognized as the world-class artist she is."    Bill Hahn, co-host - "Traditions," WFDU -FM, Teaneck NJ  
"Wow! I'm not sure where to start with the accolades for Jewels and Harmony. Most recordings have three or four very good songs and the rest are so so. I've methodically played each cut and every song is brilliantly done. The subtle but exquisite instrumentation and....ahh....those harmonies....and your voice....simply beautiful." Jim Fisher, host - "Down Home Folk and Bluegrass," WGCS FM, Goshen IN 
"WOW! Your CD is stunningly beautiful. Your voice is so rich and fluid and your song choice excellent. I instantly remembered By My Side, and sang right along...I just want to say that your CD is truly gorgeous."                                                                                                                                   Maggie Ferguson, host -"The Old Front Porch," WXOU-FM,   MI 
"I like your version [of 'By My Side']. It did give me goose bumps in the beginning and I also think that you have given it a different interpretation than what I have normally heard. Bringing in a male voice for the accompaniment/echo is innovative and new."                                          Jay Hamburger, lyricist  "By My Side" from the Broadway musical Godspell 
Thank you, Mara, for putting together such a gorgeous music collection with Jewels and Harmony. I love your understatement and well-considered vocal and musical arrangements. Your singing reminds me of a cross between Kate Wolf, Judee Sill and Erica Smith--three of my favorite singers. We used to perform "April Come She Will," too--great to hear such a respectful version from you. This is the best thing to come out of the folk community since I can't remember when!  Wishing you much success. 
Ken Anderson, of the duo "Hungrytown" 
Very few performers and recording artists get played with as much frequency on my Down Jersey radio program as Mara Levine. Not only is she a fine singer with an out of this world beautiful voice and commendable collecting and interpreting skills but as we are known by the company we keep, Mara has some really good musicians to help her and good production people too. Her recordings are first rate in that regard and let us not forget the visual aspects of a recording. Mara is a gifted jeweler and decorates the liner note booklets of her CD's with photo examples of her art. Give her a listen and ask her to put together a group of her friends to come over and visit in your area for a great time. 
Jim Albertson, Down Jersey Radio producer and Smithsonian/ Folkways recording artist 
I'm a few songs into the CD and it's really a beautiful piece of work. It's funny, even though I've recorded two folk albums, I'm not often fond of listening to folk albums. But, yours really is a gem. Great song choice and great arrangements. The production is really strong too. Nice work."             Joe Iadanza, performing songwriter 
"Jewels and Harmony is an incredible album. It's beautiful and something to be proud of. I enjoyed 'Blackberry Time' very  much."                                                                                                                                            Roger Sprung, bluegrass musician 
   "When I first heard Mara Levine's CD "Mara's Gems" I said that the real gem on the CD was her voice.  With her release of "Jewels And Harmony", I am happy to report that she has taken that gem and placed in in a lustrous new setting that only enhances it's beauty."                     Art Dean, host WCNI Traditions, New London CT 
"Acoustic country/folk with meaningful lyrics, lovingly interpreted and delivered with a crystal clear, sparkling voice--these are hallmarks of Mara Levine. With her new release Jewels and Harmony she delivers the first sensationally good CD of 2013, following on the heels of her effective 2009 debut, Mara's Gems.  She puts her heart and soul into these 15 pieces and comes up with pearls from well-known and some lesser-known tunes.  The fact the she did not compose the music takes nothing away from this work.   
This CD is essential for every collection--it's on permanent rotation in my player. The title is perfect--every song is a gem. You either like Taylor Swift or Mara Levine. One of these two has got to be the best singer in America. Go with Mara and you will be rewarded with a much richer artistic experience. And those of you who remember Kate Wolf will embrace Mara Levine outright. Five of five stars!" 
Freidrich Hog "No Fences" magazine  #58 (Germany) 
  
On her second album, New Jersey native, Mara Levine effortlessly finds the balance between lightness and depth. It requires more than melancholy and good lyrics to produce something truly great and lasting, and this artist, who is also an accomplished jewelry designer, proves herself capable of doing just that. Working together with producer Bob Harris (Johnny Cash, Girlyman), Mara also adds gorgeous vocal harmonies, exquisite instrumental passages, and an A-list of guests such as Si Kahn, Brother Sun, Gathering Time, Joe Jencks, Terry Rivel and Mark Torres to the mix. It all adds up to one of the finest folk productions in recent times.  
http://www.countryjukebox.de/pages/flash.htm  (Germany) 
"Mara Levine's crystal clear voice reminds one of Joni Mitchell and Joan Baez in the fifteen tracks that she selected for her new record 'Jewels And Harmony'. It is a marvellous collection of well arranged and beautifully sung covers of well known and unknown style classics"    – www.rootstime.be  (Belgium) 
Full Length Reviews 
http://www.fatea-records.co.uk/magazine/MaraLevine.html 
  
Mara Levine 
Album: Jewels And Harmony 
Label: Mara's Creations 
Tracks: 15 
Website: http://www.maralevine.com 
You could say that accomplished New-Jersey-based jewellery designer Mara Levine lives to sing; that you can tell at once from her crystal-clear delivery, her excellent diction, her practised technique. She's been singing professionally for a little over a decade, yet Jewels And Harmony is only her second CD. It proves to be one of those almost-too-good-to-be-true records, where everything is so in-its-place: vocals are expressive perfection, arrangements telling and apt, interpretations classy, choice of material neatly mixing slightly familiar with unknown but very worthy. 
Mara's own performance is peerless: she possesses an attractive, assured singing voice that recalls Joan Baez, Sylvia Tyson and to some extent also Judy Collins, while the tone and feel of the arrangements is very mid-60s too although without the dated aspect that tag might imply - for Mara's performances are genuinely timeless in style and execution, and will appeal to any folk fan who's enjoyed the above artists' discs, Mara too producing polished yet thoughtful, entirely accessible musical renditions of some classic material. She also has the considerable benefit of support from a host of really good musicians and singers from her local community (notably the genial combo Gathering Time and producer Bob Harris), with some excellent cameo roles and vocal harmonies provided by the likes of Pat Wictor, Caroline Cutroneo, Joe Jencks and percusssion by Cheryl Prashker. 
The repertoire is both comforting (also familiar in idiom) and stimulating (songs you'll very probably not have heard but will want to hear again immediately). It includes two lesser-covered Paul Simon songs (April Come She Will and Leaves That Are Green), Bill Staines' River and Gershwin's Summertime (done in a refreshingly honest, simple bluesy fashion), alongside Jud Caswell's bluegrassy Blackberry Time, Bob Franke's seasonal offering Straw Against The Chill and the entirely apposite CD closer, Dan Schatz's Leave Time (on which the song's author himself makes a key contribution). 
The generous helping of new-to-me songs receiving exposure here includes Nancy Cassidy's rousing Hallelujah, Pat Wictor's delightful I Will Walk With You and a brand new Si Kahn song - written for this very album - When I Sing With You. Si Kahn himself duets with Mara on a matchless rendition of Michael Peter Smith's almost unbearably yearning and poignant portrait of The Dutchman, providing the disc with one of its many standout tracks. And notwithstanding Mara's own special vocal expertise, she's unafraid to let another singer take the lead where appropriate, as on the superb version of Rowland Salley's Killing The Blues which features Terry Rivel. The modest, entirely tasteful and fairly gentle acoustic arrangements are faultlessly configured yet retain sufficient sense of spontaneity to ensure a continued involvement on the part of the listener. 
I really can't fault this disc either from a musical or presentation point of view (full credits and lyrics are in the booklet, which also features Mara's jewellery designs); its title Jewels And Harmony fair sums it all up. 
David Kidman, FATEA UK 
 http://www.rocktimes.de/gesamt/l/mara_levine/jewels_and_harmony.html 
(It's been) a long, hard day; my eyes are nearly bugging out; I throw on some comfy clothes, put up my feet and sit back with a cup of tea; put on Jewels and Harmony and get back to earth.                   
The vibes coming from the speakers reaches me as the work of a person who is centered in her own creativity and fully expresses this. American jewelry designer and folk singer, Mara Levine, interprets contemporary folk songs, adding her own unique harmonic gift. In my mind I can picture her crafting jewelry, singing these songs to herself. The singing is harmonious, steady and fluid. Her voice is warm and full of depth.                                                                                                                         
She adds her own signature to classics such as Summertime as deftly as to Paul Simon's Leaves That Are Green and April Come She Will. She masterfully gives this diverse collection of songs a unifying wholeness. 
Singer/songwriter and activist, Si Kahn, wrote When I Sing With You specifically for this collection, into which the song fits perfectly. Kahn also adds his vocals harmonies without ever weighing the tunes down. The sound is comforting and homey but never cloying—harmonious just as the CD title promises. 
Among all these gems it's difficult to point out a standout track. Every tune adds another pearl to this perfect whole of the necklace. However, a potential listener can't go wrong starting with Leaves That Are Green or Summertime to get sense of what Mara is capable of as an interpreter of classic songs. Or give her take on Nancy Cassidy's Hallelujah a try (not to be confused with the Leonard Cohen song). 
This collection conveys a relaxed, joyous mood that leaves the travails of modern life far behind and only gets better with each listening. 
Sabine Feickert (Rocktimes, Germany) 
She doesn't play an instrument, compose music or write lyrics. Why bother? Mara Levine sings with 24-karat soul, recording and performing with excellence, exuberance and passion that's obviously contagious to her fellow practitioners and listeners alike. Jewels and Harmony, Levine's carefully crafted, multi-faceted masterpiece takes you on a beautiful musical journey through life's seasons via 15 tracks, each artistically arranged, elegantly executed, regally recorded and perfectly produced. 
Every radiant contribution from dozens of stellar musicians and songwriters sparkles. Guitarist Bob Harris, Brother Sun's Joe Jencks and the Gathering Time trio contributed vocal arrangements. Bob Franke's reverent Christmas (not Santamas!) song "Straw Against The Chill" reaches heavenly heights as Jencks' and Levine's angelic voices create a celestial choir on the glorious chorus. Nancy Cassidy's "Hallelujah" is rapturous. Si Kahn singing the title role on Michael Peter Smith's "The Dutchman" opposite Levine's loving Margaret was casting genius! Their pristine, pitch-perfect duet is delicious and definitive. Kahn's "When I Sing With You" (Levine's theme song!) exquisitely epitomizes Levine's harmonious philosophy. 
Levine gets that folk music is of, by and for the people; that Folk Alliance International is a collaborative community of talented friends and creative colleagues that truly support, encourage and inspire one another while genuinely celebrating each other's individual achievements and their collective successes; that shared spotlights shine brightest. 
Dennis McDonough 
Elmore Magazine March/April 2014 print Issue 
 In New Jersey based singer and jewellery designer, Mara Levine, you'll discover a pure voice that recalls the young Judy Collins and Sylvia Tyson and, while not a writer herself, some lovely acoustic arrangements of songs by both well known and unfamiliar artists. 
Paul Simon's songbook provides two covers, faithful readings of lesser-covered numbers Leaves That Are Green and April Come She Will. the latter featuring some fine slide guitar work from Pat Wictor. Lesser known perhaps, Michael Smith's The Dutchman, a song popularised by Steve Goodman, sees her duetting with the husky Si Kahn on a version that perfectly captures its yearning loneliness while, backed by two acoustic guitars, she offers a suitably bluesy take on Gershwin's well worn standard Summertime. 
Kahn himself wrote When I Sing With You specifically for the album, but I suspect most of the other contributors will mean little the audiences beyond their own circles. Like Levine, they deserve a wider appreciation, most especially Nancy Cassidy whose Woody Guthrie-like Hallelujah is, with its upright bass and mando/guitar is one of the highlights alongside Bob Wright's Celtic flavoured Immigrant Dream, Levine's harmonising with Terry Rivel on Rowland Salley's acoustic folk strum Killing The Blues, Pat Wictor's I Will Walk With You and, the oldest song here, Bob Franke's nativity-themed Straw Against The Chill. 
Very much in the vein of mid to late 60s American folk music, as well as the two comparisons already cited I'd say anyone with an appreciation for such artists as Stan Rogers, Gordon Lightfoot, Joan Baez or Judy Small will find Levine very much to their tastes.   
Mike Davies, NetRythems, UK 
Foreign Language Reviews: 
http://ikon1931.se/recensioner/icketrakig-folkmusik  - Swedish 
http://obladoo.se/blog/musik/2013/03/27/mara-levine-jewels-and-harmony/ - Swedish 
                         
http://www.stereo-sun.blogspot.com/ (Serbia)  Rating : 8 / 10 
 Branimir Lokner