Mara Levine with Gathering Time at the Philadelphia Folk Festival in person with digital options on August 21
Woodstock Folk Festival Virtual Bill Staines Tribute Watch any Time!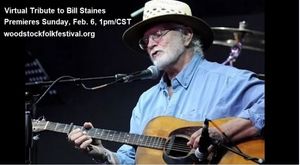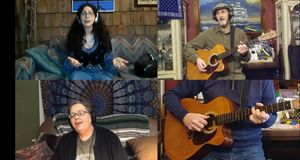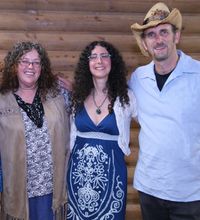 Woodstock Folk Festival Virtual Bill Staines Tribute Watch any Time!
Photo By Tom Stuart         
I'm honored to be included in collaboration with friends Gathering Time, in The Woodstock Folk Festival FREE  VIRTUAL tribute to Bill Staines Sunday, February 6, on what would have been his 75th birthday, debuting at 1 pm CST/ 2 pm EST and then available to watch on demand any time after! 
The direct link to view is  https://woodstockfolkfestival.org/aiovg_videos/a-virtual-tribute-to-bill-staines-hosted-by-the-woodstock-folk-festival-premieres-sunday-february-6/
Performing: Mara Levine with Gathering Time (Stuart Markus & Hillary Foxsong) Joe Jencks, Small Potatoes (Jacquie Manning & Rich Prezioso), Priscilla Herdman, Tom May, Jaeger & Reid and the Passim All-Stars (Mason Daring, Jeanie Stahl, Billy Novick, Guy Van Duser, Stuart Schulman).  
There is no fee for this virtual event, but the Festival encourages viewers to support performers by getting tickets to their upcoming concerts, buying their CDs, and joining their Patreon and other platforms.  Links to performer websites and information about where to send donations in Bill's honor are on the Woodstock Folk Festival website, www.woodstockfolkfestival.org
New Video for Christmas song "Straw Against The Chill"  written by Bob Franke
Mara Levine's beautiful cover of Bob Franke's moving song about the nativity "Straw Against the Chill" new video! The story unfolds with Bob's powerful imagery and lush angelic harmonies. Featuring Mara on lead and harmony vocals, Joe Jencks on guitar and male harmony vocals, Bob Harris on guitar and Chad Hammer on cello, and was co-produced by Levine, Jencks and Harris.  "Straw Against the Chill" was the #1 song played on folk radio upon release as a single, and can also be found on Jewels and Harmony.  Sync License obtained from Bob Franke, video produced by Mara Levine and Valerie Smith of Bell Buckle Records. Licensed To YouTube By:  Mara Levine.  PURCHASE DOWNLOAD at https://maralevine.bandcamp.com/track/straw-against-the-chill  Available to DJs for airplay on Airplay Direct http://www.airplaydirect.com/music/maralevine/
"You Reap What You Sow" Video!
I'm excited to share my new music video for "You Reap What You Sow" Produced & Directed by Valerie Smith
Featuring Greg Blake (Guitar, Harmony Vocals), Mollie O'Brien (Harmony Vocals), Rob Ickes (Dobro), Andy Leftwich (Mandolin), Mark Schatz (Bass), & Scott Vestal (Banjo), and Written by Susan B. Shann (Mystic's Mantra Music, ASCAP), "You Reap What You Sow" offers an uplifting message of hope and renewed growth. The video accompanies the first song from Levine's top-charting album Facets Of Folk. This single is slated to be re-released on Bell Buckle Records in January 2021.
"The entire song resonated with me as a positive message about doing your best at whatever you do and reaping the rewards or fruits of your labors.  One could also interpret the song to mean caring for others and nurturing relationships, in particular keeping your word and your commitments and that this will be returned to you in kind.  I think that the message about caring for each other is timeless and important more than ever today.    I hope that folks watching the video come away feeling positive, uplifted and inspired"
The video was shot by Valerie Smith at The Sunflower Garden, Westminster, MD  https://www.thesunflowergarden.com/, Guest artists shot socially distant footage of themselves. Presented in partnership with Bell Buckle Records (www.bellbucklerecords.com). You Tube Standard License , Licensed To YouTube By:  Mara Levine (Mara Levine has obtained a sync license from Susan B Shann, Mystics Mantra Music, ASCAP.  License available on request. Single available for purchase via download on my Buy Music page. Available to DJs for airplay on Airplay Direct http://www.airplaydirect.com/music/maralevine/.
Mara showcases at the Northeast Regional Folk Alliance Conference October 11-13
 Mara Levine is a special guest of Gathering Time on Saturday, October 9 at the Deer Creek Coffeehouse, being held outdoors on the grounds of Grace Memorial Episcopal Church, 1022 Main St., Darlington, MD  from 4-6 pm.  I'll be joining around 5 pm.  Show will be outside. Gates open 30 minutes before the show. Bring your own chairs, snacks & beverages. Water & sodas will be sold on site.  Only cash and checks made to Deer Creek Coffeehouse will be accepted. Suggested Donation: $15-Adults, $5-Youth (13-21). This event is supported by a grant from the Maryland State Arts Council through the Harford County Cultural Arts Boa
Our Facebook link is https://www.facebook.com/DeerCreekCoffeeHouse/. Our website link is https://www.deercreekfolk.com/
From 3-4:30 pm the same day,   I will be co-hosting the "Broadway Show Tunes" song circle on Zoom with Jesse Palidofsky as part of the Folk Music Society of Greater Washington's weekend annual "Getaway" which will be held on line. 
To register and attend: https://fsgw.org/getaway
Mara Levine featured on the 46th annual NJ Friends of Clearwater free online festival, view anytime!
Mara Levine is one of 18 acts featured at the 46th annual New Jersey Friends of Clearwater Festival debuting online September 29th, 2021 and available for viewing any time. "You Reap What You Sow" by Susan Shann, and "Upstream" by Si Kahn are performed. The intro to my set begins at 2 hrs 39 min.
 Click the link to view the free festival. https://www.njclearwater.org/festival.html
Just click the link, or paste this URL into your browser and THEN scroll down to the pink and blue icon on the NJ Friends of Clearwater website. The video is just under the words FESTIVAL PORTAL See below for the flyer with a listing of all the performers and speakers. Donations are always welcome via the donation link to support environmental work and the free festival. https://www.njclearwater.org/donate.html or checks.
Princeton Folk Music Society 55th Anniversary Concert Free on You Tube!  Featuring Mara Levine with Gathering Time, Tony Trischka, Beppe Gambetta and Joe Jencks - view any time!
Mara Levine with Gathering Time were honored to be invited to perform a set for a special 55th anniversary concert for the Princeton Folk Music Society.  This one hour performance features us,  Tony Trischka, Beppe Gambetta and Joe Jencks.  Debuting on September 17th on YouTube, view any time here:  
 https://www.youtube.com/watch?v=4HcXZh0egOs
Mara Levine with Gathering Time were featured on Woody's Children hosted by Bob Sherman on WFUV FM on Sunday, September 26th from 4-5 pm. The show featured pre-recorded live performance concert audio with Mara Levine, supported by Gathering Time, and Gathering Time's own live performance concert audio from the Worldwind concert in May.  We listened to this program when I was a small child and my dad taped it every week. Part of the inspiration to be a folk singer. It has come full circle. Thank you Robert Sherman and Madhumita Chakrabarti!  The program is archived until October 10, 2021. 
Listen here: https://wfuv.org/content/weekend-archives
Bell Buckle Artist Mara Levine is performing at the Philadelphia Folk Festival Aug 21 2021 supported by Gathering Time - they have their own set as well
On line virtual festival - pre-recorded sets, Saturday August 21  Times TBA  Many national, local and international  acts Digital pass $65 includes access to the Philly Folk Fest Archives in August and ability to view this years festival from Aug 23 - 30  Buy Tickets - select Digital Pass Only option!  https://folkfest.org/59%c2%bd-annual-pocket-sized-philadelphia-folk-festival-digital-tx/  Note - The festival has just pivoted to all digital due to Covid safety issues.
Other August performances include a radio concert on WVBR Bound For Glory on Sunday August 15th co- bill with Gathering Time, at 8 pm and a live performance  substituting for Hillary with Gathering Time at the Long Island Museum on August 26th from 6-8 pm, outdoors.
Bell Buckle artist Mara Levine is showcasing at the Folk Alliance International Conference February 22,23,24 and 15! 
I am thrilled to be performing as part of the Folk Unlocked Virtual Conference. Usually, this in-person version of this amazing event is only available to artists and industry professionals, but this year the public can tune in too!
LINK - https://folk.org/showcasedonation 
Donations for public access to this event will go to The Village Fund, a grant program for folk artists and independent music industry professionals experiencing financial hardship, administered by Folk Alliance International.
Feb 22: Mara Levine co-bill with Gathering Time Folk Unlocked Showcase 10-11 pm Eastern 
This showcase has all songs with Gratis License and is available to view on demand
Live concert footage of Mara Levine supported by Gathering Time,(26 min) Gathering Time performing their own material,(20 min) and Terry Kitchen and Mara Levine Duo (12 min)
YouTube: https://youtu.be/fhJ9V4Zzlqg
Feb 23, 24, 25: Mara Levine Folk Unlocked Showcase w/Gathering Time & Terry Kitchen 
Live concert footage of Mara Levine supported by Gathering Time(40 min)  and Terry Kitchen & Mara Levine Duo (20 min)   Mara is booking as a co-bill with the trio Gathering Time, and as a duo with Terry Kitchen, who appear with her in live performance videos in this showcase. Bookings contact MarabLevine@gmail.com 
This showcase will only be shown on Feb 23 from 10-11 pm EST, Feb 24 from 7:30 - 8:30 pm EST, and Feb 25 from 7:30 - 8:30 pm EST
Mara Signed to Bell Buckle Records! - Facets of Folk #3 Album 2019 FAI Folk DJ Chart
Listen to Mara on Traditions with Ron Olesko
Mara Levine Interview with Artie Martello on WIOX Radio