Inspiring New Video - Be The Change by Arlon Bennett!
Mara Levine is releasing an inspiring video of her beautiful recording of Arlon Bennett's anthemic song "Be The Change," about being a positive force for change. 
Although not mentioned by name, in Bennett's song, Rosa Parks and Gandhi set examples for others to "Be the Change." Levine, along with fellow musician and videographer/video editor Efrat Shapira of EfratProductions, selected stirring imagery to tell their stories and those of others striving to make positive changes, and they worked within the confines of COVID restrictions to safely film the vocalists. Levine aims for the video to inspire viewers to participate, vote, volunteer, and do what they can to make a difference. 
Mara Levine is known for selecting and interpreting true gems of folk music, and "Be The Change," by songwriter Arlon Bennett, truly shines as one of them. The song was selected by Noel Paul Stookey (Peter, Paul, and Mary) to be performed twice by Arlon at the Public Domain Foundation's Music2Life showcase at the prestigious Kerrville Folk Festival featuring America's best songs of social consciousness. According to musicdish TV, "Bennett's "Be the Change" is a call to follow in the footsteps of those who demanded, in their own ways, that the world be a better place. Simple and straightforward, it essentially makes the case." Find out more about Arlon at https://arlonbennett.com/
Levine's lush, harmony-driven version features veteran songwriter and song interpreter Robin Greenstein and versatile professional flutist and vocalist Barbara Novick on harmony vocals, with bluegrass stalwart Bob Harris and multi-instrumentalist John Guth on instruments. "Be The Change" was the #4 song on the FAI Folk chart upon the release of Facets of Folk, which hit #1 album on the Folk Alliance International Folk DJ charts. 
Executive producer - Valerie Smith of Bell Buckle Records ,Co-produced by - Efrat Shapira and Mara Levine, Videography - Efrat Shapira and Mara Levine, Video editor - Efrat Shapira  Footage shot at EfratProductions, (efratproductions.com),Woodbridge NJ, and at the Statue of Rosa Parks sculpted by Thomas Jay Warren, Newark, NJ , Rosa Parks Mug Shot - Montgomery County Archives, Scrabble tiles "Be the Change" by  Brett Jordan for www.unsplash.com, Gandhi quote by Mick Haupt for www.unsplash.com ,Scrabble Tiles "Vote" by Wokandapix for Pixabay.com , Office Scene by Chuduyen215 for pixabay.com, Sand through hand by Ruitong You for Pixabay.com All other Stock footage  and photos licensed by Valerie Smith or Efrat Shapira on behalf of client Mara Levine or by Mara Levine from:  
https://www.storyblocks.com/ , https://www.pond5.com/ ,  https://www.videezy.com/ , https://www.pexels.com/ https://www.videvo.net/ .   Details of all individual contributors are available in the Youtube description of the video
Mara Levine with Gathering Time at the Philadelphia Folk Festival in person with digital options on August 21
Woodstock Folk Festival Virtual Bill Staines Tribute Watch any Time!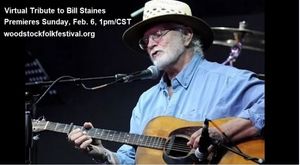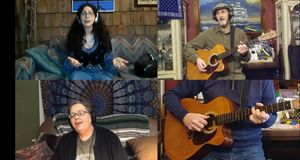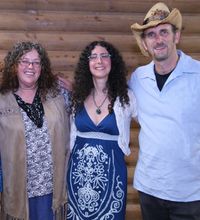 Woodstock Folk Festival Virtual Bill Staines Tribute Watch any Time!
Photo By Tom Stuart         
I'm honored to be included in collaboration with friends Gathering Time, in The Woodstock Folk Festival FREE  VIRTUAL tribute to Bill Staines Sunday, February 6, on what would have been his 75th birthday, debuting at 1 pm CST/ 2 pm EST and then available to watch on demand any time after! 
The direct link to view is  https://woodstockfolkfestival.org/aiovg_videos/a-virtual-tribute-to-bill-staines-hosted-by-the-woodstock-folk-festival-premieres-sunday-february-6/
Performing: Mara Levine with Gathering Time (Stuart Markus & Hillary Foxsong) Joe Jencks, Small Potatoes (Jacquie Manning & Rich Prezioso), Priscilla Herdman, Tom May, Jaeger & Reid and the Passim All-Stars (Mason Daring, Jeanie Stahl, Billy Novick, Guy Van Duser, Stuart Schulman).  
There is no fee for this virtual event, but the Festival encourages viewers to support performers by getting tickets to their upcoming concerts, buying their CDs, and joining their Patreon and other platforms.  Links to performer websites and information about where to send donations in Bill's honor are on the Woodstock Folk Festival website, www.woodstockfolkfestival.org
New Video for Christmas song "Straw Against The Chill"  written by Bob Franke
Mara Levine's beautiful cover of Bob Franke's moving song about the nativity "Straw Against the Chill" new video! The story unfolds with Bob's powerful imagery and lush angelic harmonies. Featuring Mara on lead and harmony vocals, Joe Jencks on guitar and male harmony vocals, Bob Harris on guitar and Chad Hammer on cello, and was co-produced by Levine, Jencks and Harris.  "Straw Against the Chill" was the #1 song played on folk radio upon release as a single, and can also be found on Jewels and Harmony.  Sync License obtained from Bob Franke, video produced by Mara Levine and Valerie Smith of Bell Buckle Records. Licensed To YouTube By:  Mara Levine.  PURCHASE DOWNLOAD at https://maralevine.bandcamp.com/track/straw-against-the-chill  Available to DJs for airplay on Airplay Direct http://www.airplaydirect.com/music/maralevine/
"You Reap What You Sow" Video!
I'm excited to share my new music video for "You Reap What You Sow" Produced & Directed by Valerie Smith
Featuring Greg Blake (Guitar, Harmony Vocals), Mollie O'Brien (Harmony Vocals), Rob Ickes (Dobro), Andy Leftwich (Mandolin), Mark Schatz (Bass), & Scott Vestal (Banjo), and Written by Susan B. Shann (Mystic's Mantra Music, ASCAP), "You Reap What You Sow" offers an uplifting message of hope and renewed growth. The video accompanies the first song from Levine's top-charting album Facets Of Folk. This single is slated to be re-released on Bell Buckle Records in January 2021.
"The entire song resonated with me as a positive message about doing your best at whatever you do and reaping the rewards or fruits of your labors.  One could also interpret the song to mean caring for others and nurturing relationships, in particular keeping your word and your commitments and that this will be returned to you in kind.  I think that the message about caring for each other is timeless and important more than ever today.    I hope that folks watching the video come away feeling positive, uplifted and inspired"
The video was shot by Valerie Smith at The Sunflower Garden, Westminster, MD  https://www.thesunflowergarden.com/, Guest artists shot socially distant footage of themselves. Presented in partnership with Bell Buckle Records (www.bellbucklerecords.com). You Tube Standard License , Licensed To YouTube By:  Mara Levine (Mara Levine has obtained a sync license from Susan B Shann, Mystics Mantra Music, ASCAP.  License available on request. Single available for purchase via download on my Buy Music page. Available to DJs for airplay on Airplay Direct http://www.airplaydirect.com/music/maralevine/.
Listen to Mara on Traditions with Ron Olesko
Mara Levine Interview with Artie Martello on WIOX Radio